If you enjoy this content, please share!
Do you have a beach trip planned for this year and you wonder what items need to be on your beach trip packing list? When Clay and our family and I took our first beach trip, I had no idea what to pack. We'd always gone to the mountains and that is an entirely different packing list! So I got started creating a list of our beach trip essentials. I've changed the list over the years and think I finally have the one that works for us.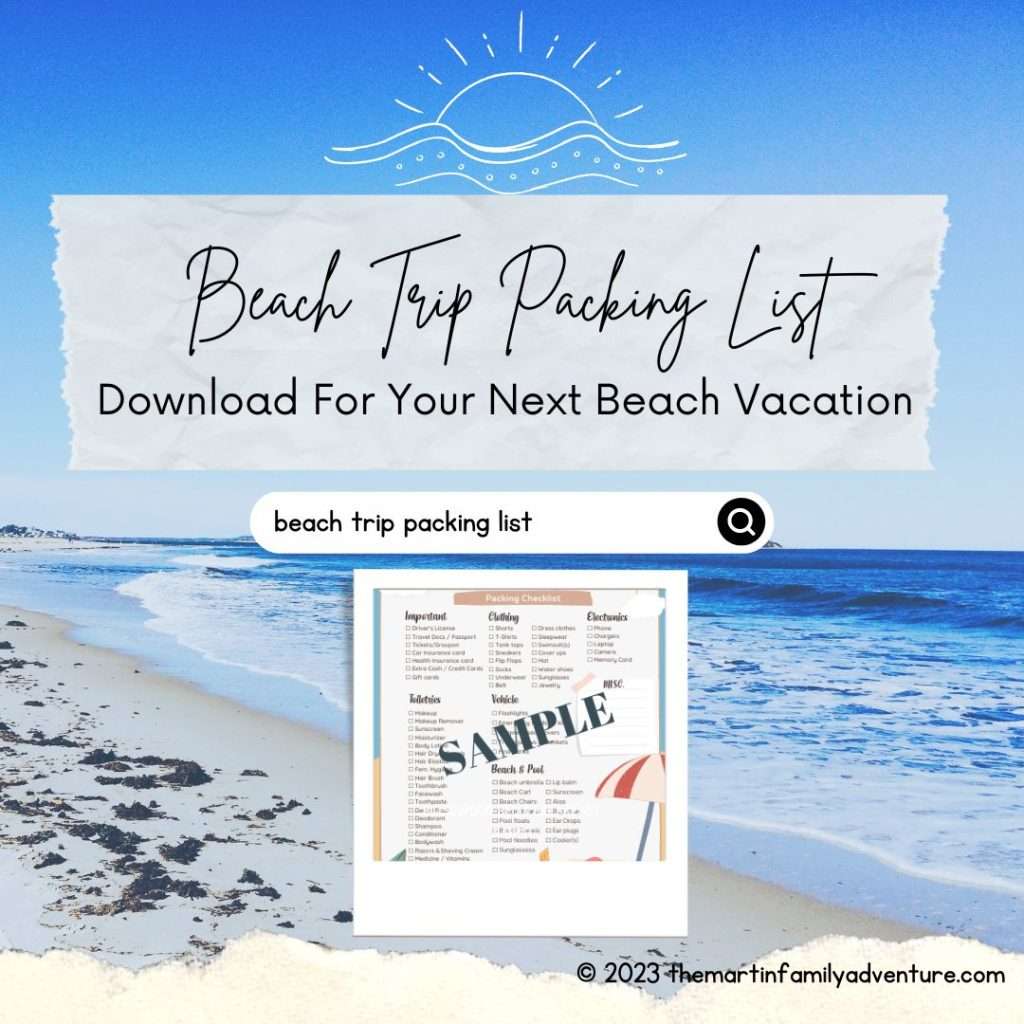 Affiliate links have been used in this post. Purchases made through our links earn us a small commission to pay for our website, without any fees passed on to you. Read our full disclosure policy for more info. Thank you for your support!
If you're like me, having something I can print out and check off is a must. I created a fun printable beach packing list for you to use on your next (and future) beach trip.
One thing I left off this list is our travel kitchen essentials. We have a large tote that is filled with things we may need in our kitchen when we travel. (ex: baggies, cutting board, corkscrew, oven mitt, etc…) Things the vacation rental may not have. We always rent a house but I know some folks prefer a hotel. That's why I left it off the list. I can make a separate download for that, if you'd like. Just let me know in the comments if that's something you'd need and I'll get it posted!
As for the beach trip packing list, I added things my family utilizes most on a beach trip. I've also linked to a few things you may like.
We always take shorts, t-shirts, tank tops and sleepwear. We also love to dress up a little one night and go to a restaurant to eat. The girls wear cute sundresses and the guys wear nice shorts and a polo type shirt or nice plain t-shirt. Nothing fancy, but nicer than you'd just wear to the beach.
One beach essential is obviously a swimsuit and cover, but you'd be surprised how many times we forgot to pack a swimsuit! Some beach house rentals provide towels for guests use, but many don't. So, always be sure to pack your beach towels. At least one per person.
For going to the actual beach, we like to take a cooler with water bottles as well. Some shelf stable snacks like bags of nuts, meat sticks, granola or protein bars work really well too. I am always starving when I get out of the water. Concession stand food is expensive so taking your own snacks works well.
Another thing to remember in your beach packing list is your medications. And prescriptions, birth control, pain relievers like Ibuprofen, etc need to be in your toiletries. I like to keep a separate first aid kit in our vehicle and a small one in my beach bag.
Speaking of the beach bag – I keep sunscreen, lip balm with SPF, extra sunglasses, waterproof phone holder, waterproof speaker, mini first aid kit and towels in mine.
If you're not staying in an area with a private beach, you may need to take your own beach umbrella or portable cabana. A beach cart comes in handy for carrying those, beach chairs, boogie boards and a small cooler. I love this beach cart. We've used ours several times and it tends to move fairly well on sand. Light, fluffy sand might be a bit of a problem but we've made it work. Some folks prefer more of a wagon style beach cart like this.
Download Your Beach Trip Packing List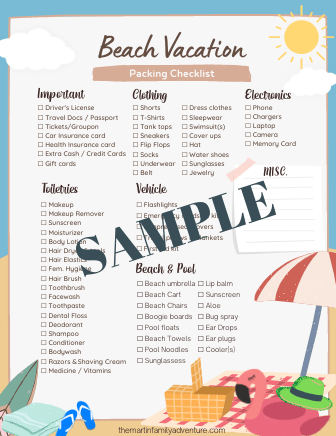 I broke the list into 6 essential categories with the must haves for each category. These categories and items are the ones that work for our family. You may need to add more items and there may be items you don't use. I also left a spot for you to add in a few of your own items. If there's something you don't need, simply mark it out.
What are some of your must have beach trip essentials? I hope you enjoy this beach packing list!
Some more articles you may enjoy: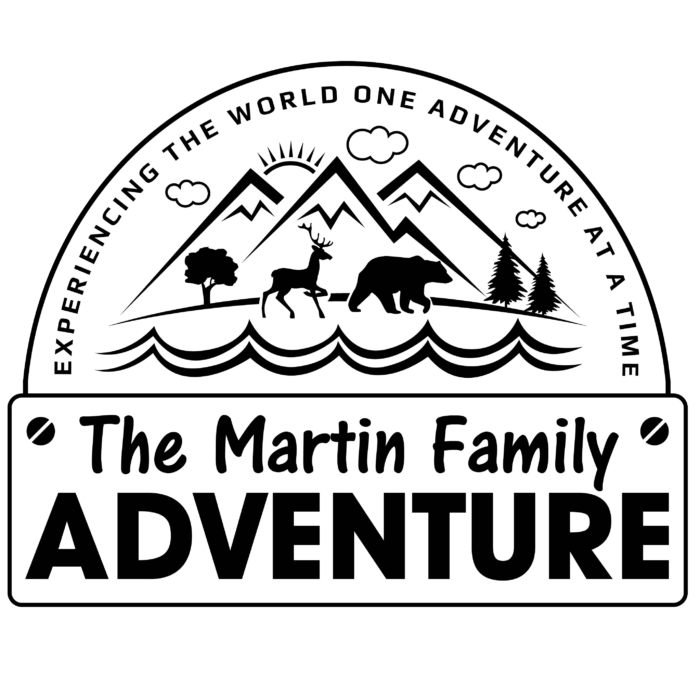 We are The Martin Family, from Kentucky, and we write about all things travel! We're so happy you've joined the adventure with us! We are excited to share our travels, journeys and adventures with you here on our site. We love experiencing the world one adventure at a time! Be sure to follow on YouTube and social media for even more!
"Live life one adventure at a time!" Crystal Martin
If you enjoy this content, please share!