If you enjoy this content, please share!
Have you ever visited Florida? I mentioned a few posts ago that my family and I drove to St. Augustine, dipped our toes in the water, enjoyed an ice cream cone, then headed back to our vacation in Georgia. We stopped at the state line, on the way, and enjoyed some fresh orange juice as well. But, that's it. That's the only time I've spent in Florida. Clay and his parents went when he was a child but not since. So, I'd love to visit more of the state, including Northwest Florida! I've included maps with addresses to some of the attractions below each one.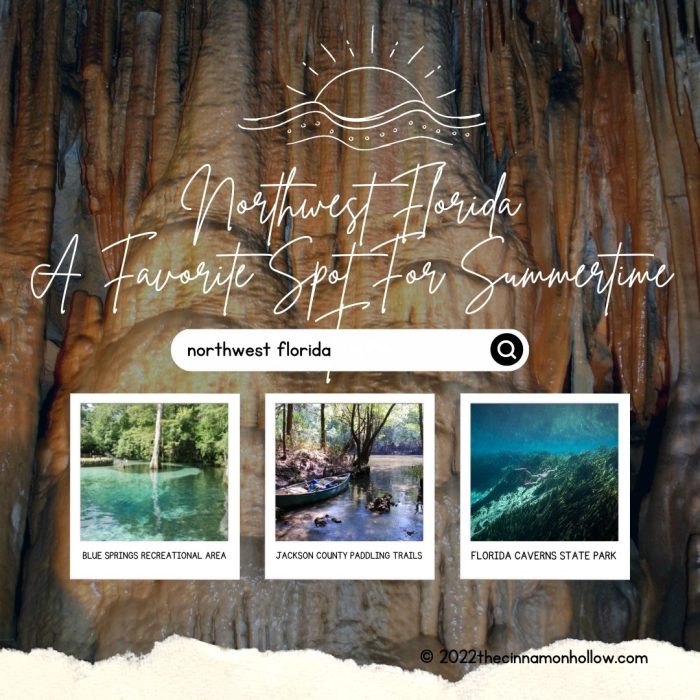 Northwest Florida is a favorite spot for summertime fun. But this region, which stretches from east of Pensacola westward toward Tallahassee, along Interstate 10 and beyond, has become much more than just a summer destination. Known for its Gulf beaches and wealth of recreational activities, more and more people are finding reasons to visit all year long. No matter when the visit, there is always fun in the sun–and always a host of ways to beat the heat while enjoying all the region has to offer.
Top ways to beat the heat in Northwest Florida:
Enjoy the cool springs
click images to enlarge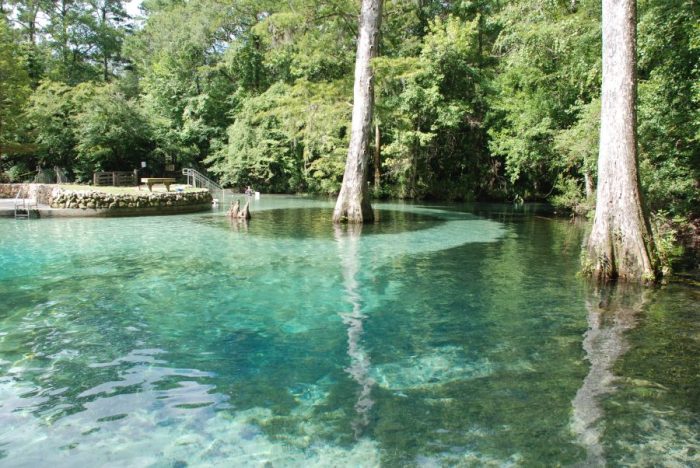 There are several springs across the region with recreational opportunities for all, from families enjoying an afternoon of swimming to novice snorkelers to experienced cave divers. A prime example is Jackson Blue Spring, at the heart of the popular Blue Springs Recreational Area. This county park is home to a first-magnitude spring which feeds an average of 85 million gallons of water a day to Merritt's Mill Pond.
Explore a cave
Florida Caverns State Park is home to an amazing wonder and the only cave system in the state accessible by walking tour. The intriguing world of the 65-dregree cave includes black pools and intricate limestone stalactites and stalagmites that have formed through thousands of years. Tours are scheduled five days a week.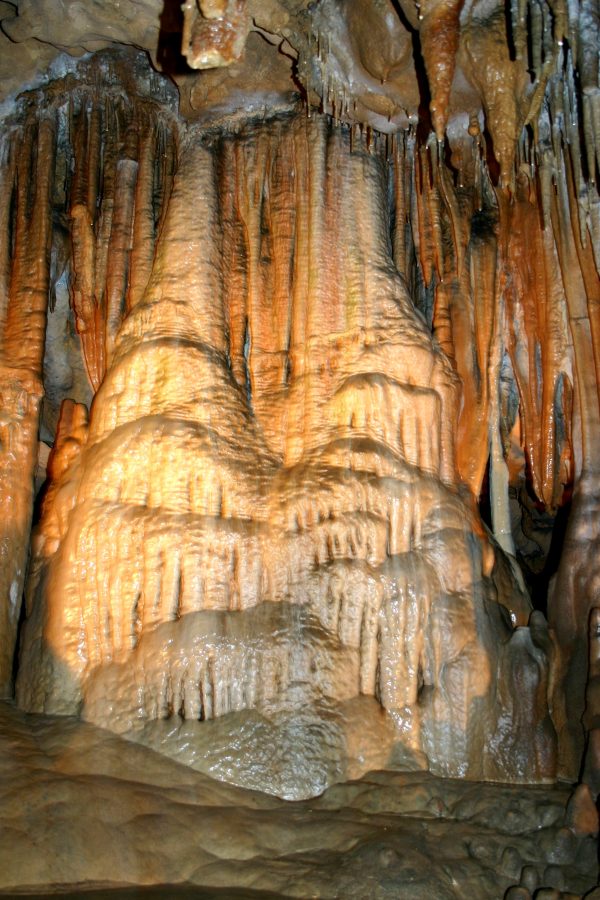 I love visiting caverns! I remember, when I was little, my family and I visited several caverns in Kentucky and Tennessee. That was the most memorable trip from when I was a little girl. I had so much fun and really enjoyed seeing the differences in the different caves. Some had "cave bacon". One had a waterfall. There were stalactites and stalagmites galore. It was so much fun.
Florida Caverns State Park is one place I absolutely want to go with my kids!
Paddle the inland waters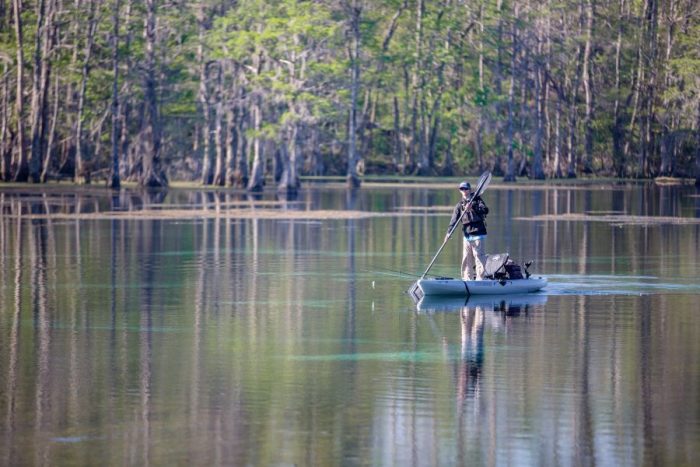 Paddling the sparkling spring-fed creeks and rivers along the shaded riverbanks is another favorite activity here. There is an abundance of paddling spots throughout the waterways of the region. The Jackson County Paddling Trails guide is a great place to get specifics of paddle routes.
Check out area museums
Northwest Florida's culture and history is on display at many museums throughout the region. Art is on display at the Panama City Center for the Arts and the Gadsden Art Center & Museum. History museums, from the stories of the Muscogee Nation to first Florida Constitution, paint a vivid picture of this diverse region.
Embrace the evening
The long, sunny days on the coast lead to adventurous nights and there is plenty of nightlife to enjoy. Each of the destinations throughout the region has its own signature experiences, from beach bonfires in Gulf County to the streets and shops of Sandestin's Baytowne Wharf
Visit Off season
Spring and fall weather here invites outdoor enthusiasts to come early and then come back again. And mild winters make this special region a year-round destination. Many choose to add an "off season" vacation to their calendar in order to enjoy all the year-round fun Northwest Florida has to offer.
Here's all the images from this post in a gallery layout so you can see them all together or slide through them.
click images to enlarge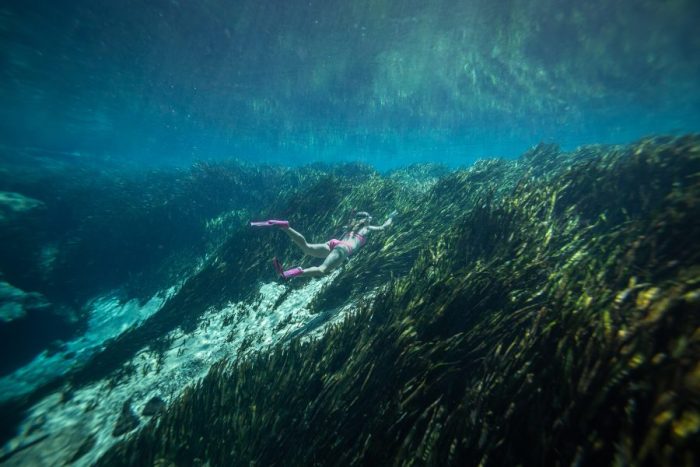 If you've never been to Northwest Florida, I encourage you to add it to your bucket list. It is absolutely beautiful and, as you can see, there is a ton to do there! For my itinerary, I'm definitely adding the caverns, springs, museums and shopping. I keep changing my mind about where I want to take our summer vacation next year but I really think Northwest Florida may be the place to go! I can't wait to visit!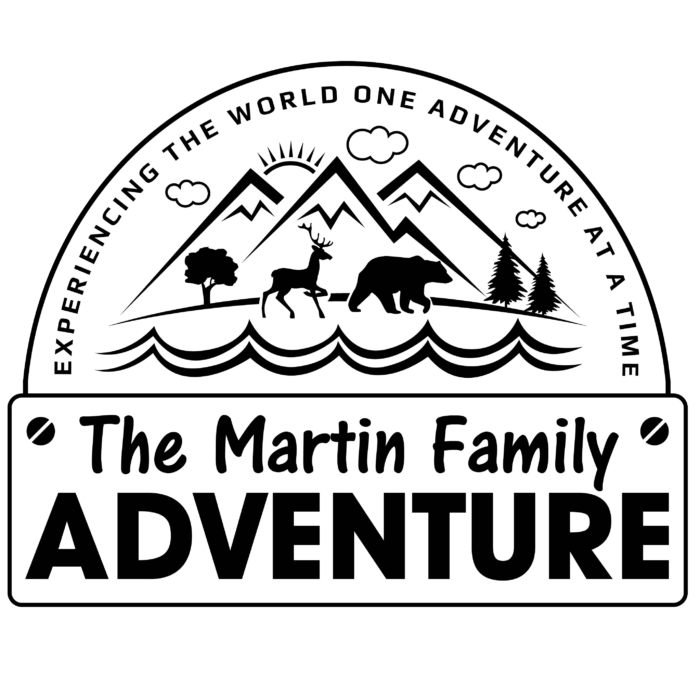 We are The Martin Family, from Kentucky, and we write about all things travel! We're so happy you've joined the adventure with us! We are excited to share our travels, journeys and adventures with you here on our site. We love experiencing the world one adventure at a time! Be sure to follow on YouTube and social media for even more!
"Live life one adventure at a time!" Crystal Martin
If you enjoy this content, please share!