If you enjoy this content, please share!
Have you ever wanted the chance to play with kangaroos? To get close up and feed them? To see a joey in it's mama's pouch? You can do that! My family and I recently had that opportunity when we visited Kentucky Down Under Adventure Zoo in Horse Cave, Ky. (this is NOT a sponsored post – we purchased tickets via this Groupon deal – however, affiliate links have been used in this post. When you make a purchase via our links, we earn a small commission at no extra cost to you, to help offset our website fees)
We went on a Saturday, rented a motel room for the night, then came back on a Sunday. There were a few set-backs (not zoo related) but we still had a ton of fun and plan to go back another day.
One problem was that it rained all day. ALL. DAY! The zoo is still open so we were still able to see all the animals but they weren't really in the mood to be gawked at. Many of the animals were curled up trying to stay out of the misty rain. Usually, the kangaroos are out and about and let you get right in the middle of them and play. Some were out but we had on rain ponchos and I think they were a bit afraid of them so they would hop off.
We DID get to see a baby joey , in it's mama's pouch, though! This wasn't just any joey or mama, either. They are albino! Snow white with pink eyes and soooo beautiful! Mama didn't care for our ponchos so we didn't get to be up close for long. She did let us get a peek of her baby with it's head out.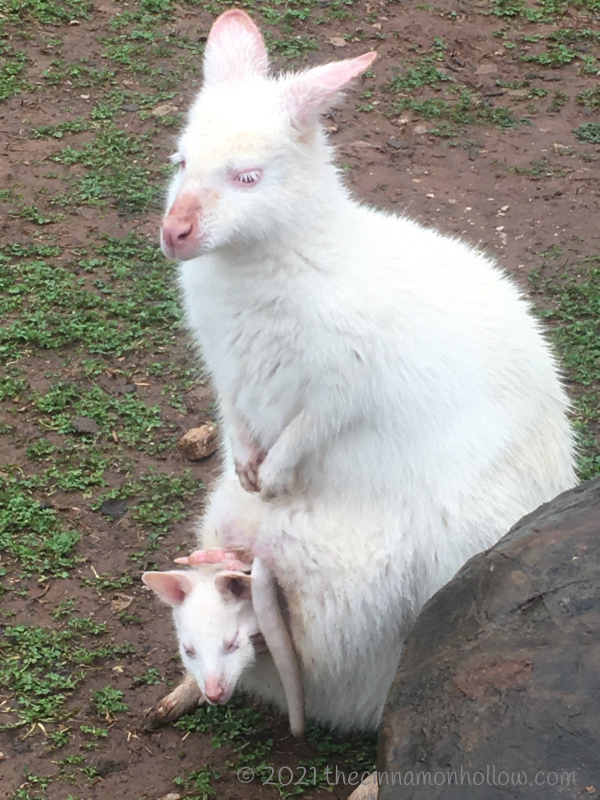 NOTE: NEVER put your hand in a mama's pouch! The attendants told us that some folks actually try to do that! 🙄 Please people, leave the animals alone! You can feed them, pet them where you're told and let them move around you, but, for the love of Pete, do not stick your hands in their pouch!
Now that that's out of the way…. we also say several species of birds including a Macaw that talked to us. When told it was pretty it replied "Yeah". It knows. lol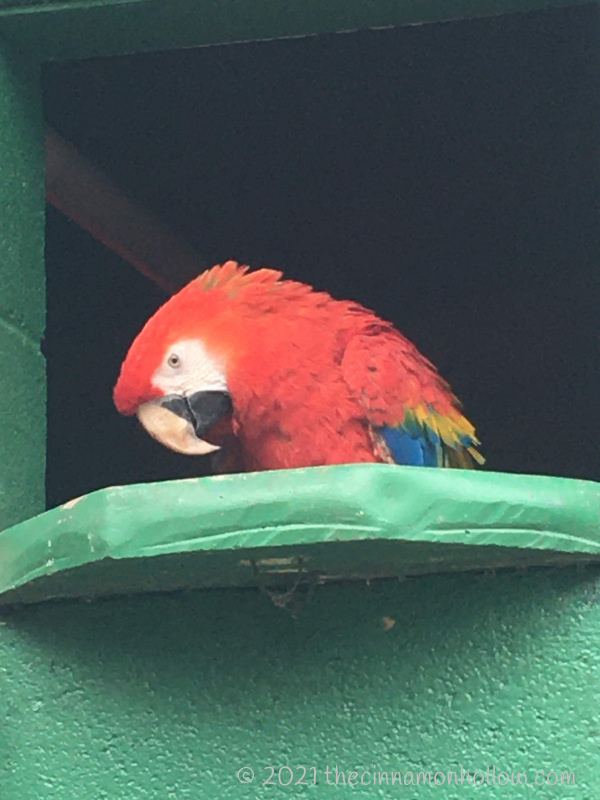 We also saw dingoes, fox, ring tailed lemur, porcupine and a few others I can't remember.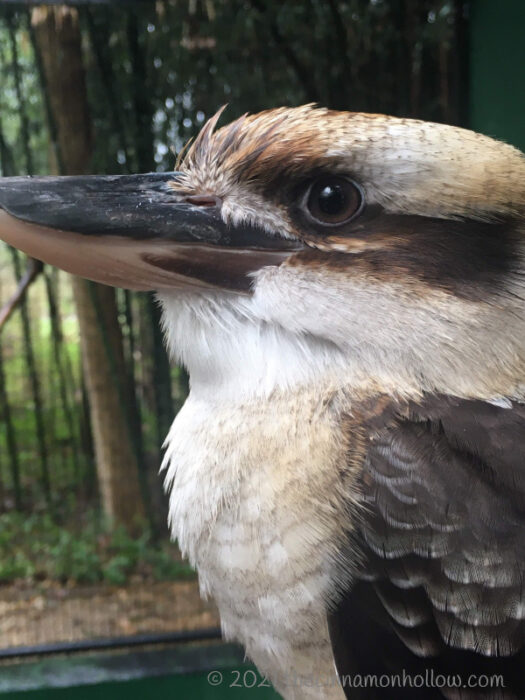 The other thing that made the day a bit tiresome was that I'd just had my 2nd Covid vaccine the day before so I was extremely tired and achy. I took Tylenol around the clock to help with all that and it did. I was just really tired. It's worth it, though, to me, to be vaccinated. If you disagree, that's fine. We don't all have to have the same outlook to be friends. 😁
I did get a selfie with my cute hubby!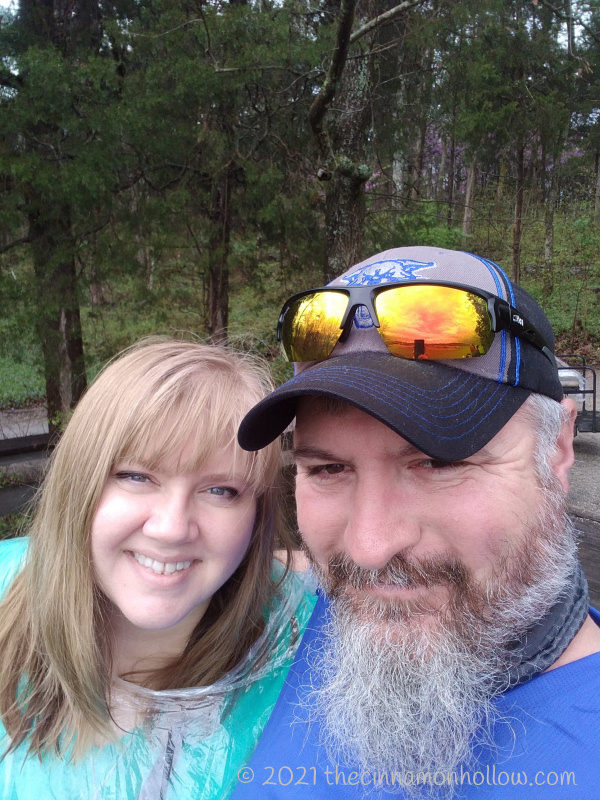 Luckily for me, and my father-in-law who has COPD, they have golf carts for rent! Clay and his brother went in together and rented one and I'm so glad they did! On a normal day I could've walked the loop, even though there is some incline. But that day, I just couldn't muster the energy.
We took the golf cart for a drive to the overlook and saw the most beautiful view of the countryside!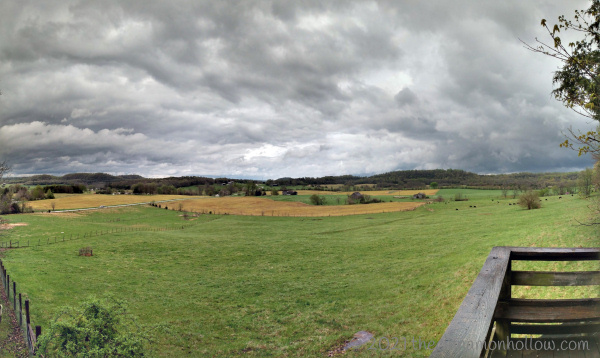 Although, I did make the trek through the cave that comes with your admission! It is a short walk, but it is steep and narrow. There are several slippery stairs and a couple tight squeezes. You'll see a small are with gorgeous stalactites and stalagmites. It was fun, though, and another thing I'd love to visit again. There's a magnesium rich stream inside! I was worn out after our visit but it was so much fun.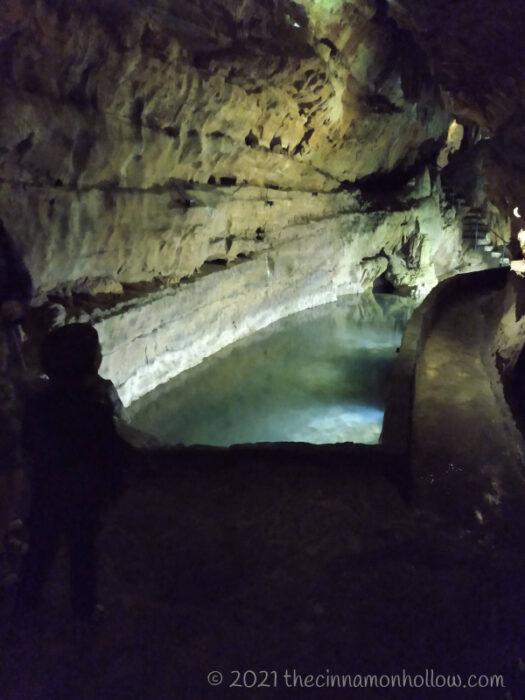 We live pretty far from Horse Cave so we decided to spend the night. I found a motel online. Do NOT rent the Days Inn in Cave City! We had stayed at Days Inn in the past, but apparently, they moved and this was no longer the same one. Instead, this Days Inn is where the old Knights Inn was, which was also a nightmare to stay in. This time, all of the linens were stained. The sinks and tubs were dirty. Rooms were missing towels, coffee makers and cups. The staff was very friendly and acknowledged they were short staffed on housekeeping due to Covid, but, that didn't excuse some of the issues. I would maybe try them again if things ever get back to more normalcy, but I wouldn't recommend them during current times. ☹
Over all, even with the bad weather and not so clean room, we had a really great time and will definitely go back again! I'd love to make a week out of it and visit more caves, go go-karting, horse back riding and through the haunted house in Cave City. If we have little ones with us, we'll take them through Dinosaur World, too, to see all the dino statues. I wish Guntown Mountain was still open. I'd take the kids there too. 3 of our 4 have been but our youngest wasn't born before it closed down. Hopefully it'll open again soon. A week long trip to Cave City/Horse Cave would be a bit of a step back in time as far as everything being a bit dated, but it would definitely be a fun experience for the family.
Kentucky Down Under is DEFINITELY a fun experience and one I can't wait to do again on a sunny day!
Follow Kentucky Down Under on social media:
Have you ever been to Kentucky Down Under in Horse Cave, Ky?
If you enjoyed this article featuring Kentucky Down Under, check out the rest of our travel blog for even more adventurous fun! Be sure to subscribe to our newsletter so you never miss an update! When you do, you'll receive a free downloadable vacation planner!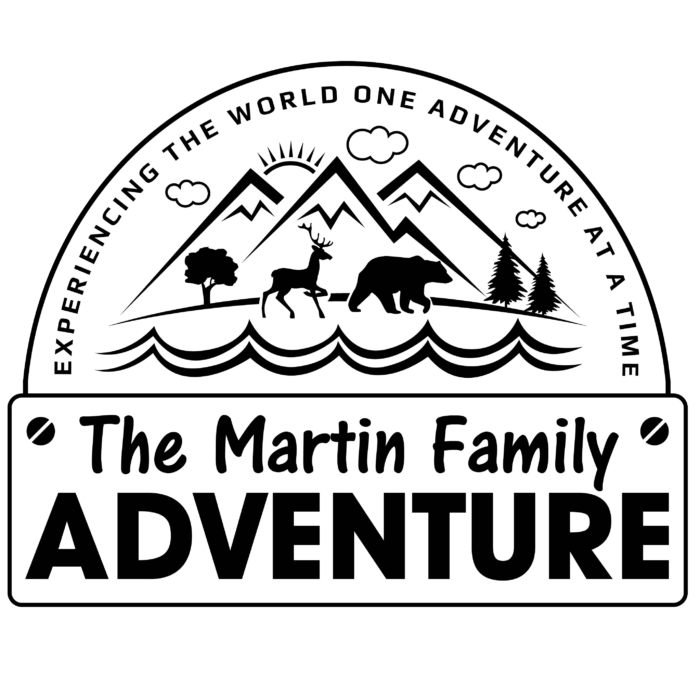 We are The Martin Family, from Kentucky, and we write about all things travel! We're so happy you've joined the adventure with us! We are excited to share our travels, journeys and adventures with you here on our site. We love experiencing the world one adventure at a time! Be sure to follow on YouTube and social media for even more!
"Live life one adventure at a time!" Crystal Martin
If you enjoy this content, please share!