If you enjoy this content, please share!
It's that time again—a time for copious amounts of candy, masses of spooky decorations, and all the horror movies you can watch! Halloween is a holiday that everyone can enjoy, from the kids Trick or Treating to load-up on chocolate and candy, to adults seeking to party or be scared out of their wits.
If it's the latter you seek, then take a look at these amazingly spooky destinations. These cities are said to be some of the scariest in the country and are the perfect vacation destinations for Halloween.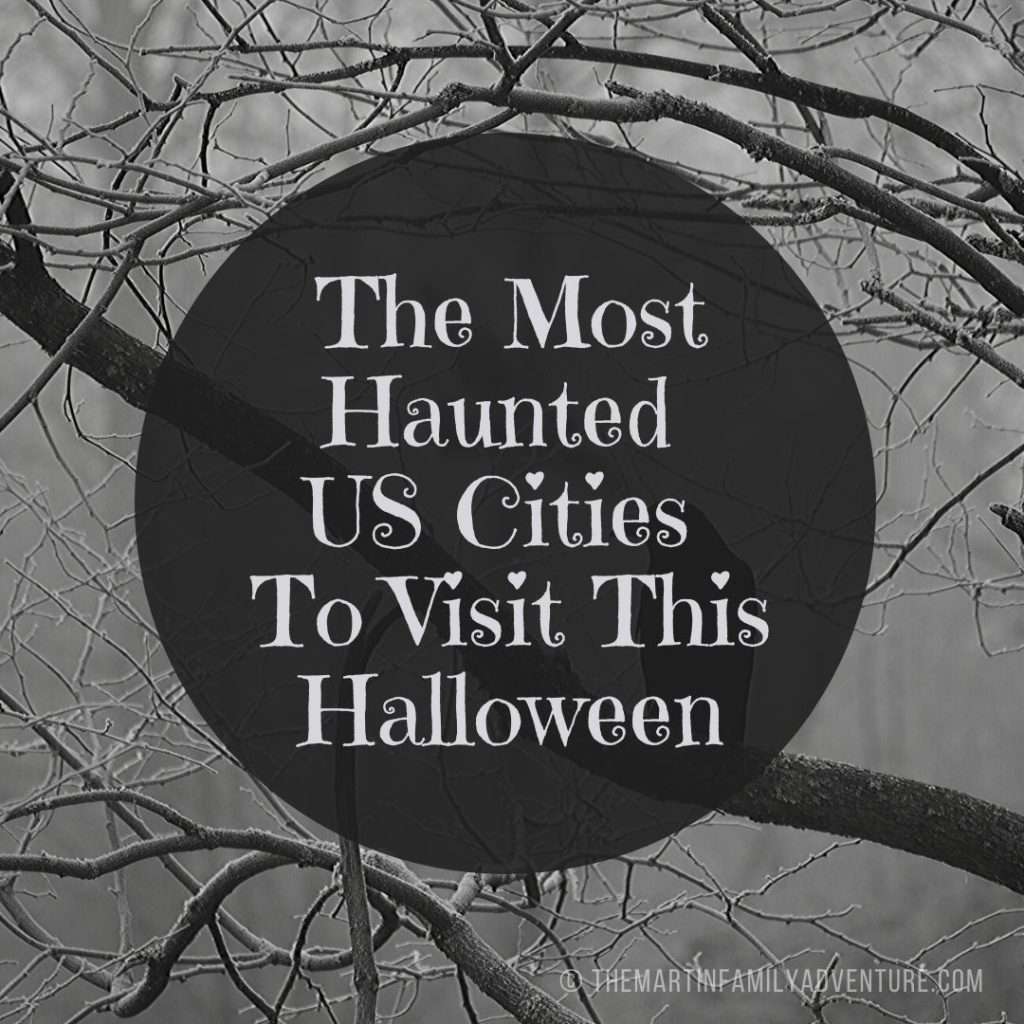 The Most Haunted US Cities To Visit This Halloween
1. Salem, Massachusetts
You probably don't need to be told why Salem is haunted. Every American was raised on stories of the Salem Witch Trials, which claimed the lives of nearly 2 dozen innocent people towards the end of the 17th century. Some believe that this has turned the city into a hotbed of paranormal angst, leading to multiple sightings.
Of course, Salem has played into this and you're more likely to run into a gift shop selling so-called "occult" items than you are an actual ghost. But you have to give it to the locals—they know how to set a scene.
There are some very spooky locations in this city, ones that will raise the hairs on the back of your neck whether you believe in ghosts or not. The Witch House, Joshua Ward House, Old Burying Point Cemetery, and the Hawthorne Hotel will test your resolve on Halloween night.
It's not all about the witches, either. This city has played host to plenty of other creepy occurrences over the centuries and is said to be home to many spirits.
2. Chicago, Illinois
Chicago. Over 300 people lost their lives in the Great Fire of 1871, and less than half a century later 844 more were killed in the Eastland Disaster. Once you combine these tragedies with the devastating impact that organized crime has had on the city, with Al Capone and his successors torturing and killing hundreds, then it's easy to see why the Windy City is such a haunted hotspot.
Take one of the city's many ghost tours to see the most haunted sights for yourself. And don't worry if all the biggest events are fully booked as there are plenty of other tours and events around Halloween.
3. Philadelphia, Pennsylvania
The older a city is, the more likely it is to be haunted—at least, that's what the believers say. Philadelphia, therefore, was always going to be a prime candidate for this list. The City of Brotherly Love was the first capital of the United States and has featured on several paranormal shows over the years.
One of the most haunted locations is said to be the Philadelphia Zoo, as well as the Eastern State Penitentiary. These hotspots are said to be some of the most haunted in the United States and always draw a crowd around this time of year.
4. Burlington, Vermont
This beautiful New England destination is home to haunted inns, hotels, college campuses, houses, cemeteries, and even restaurants—it doesn't get much better than this!
One of the most famous sightings is of a woman said to haunt a covered bridge, known as Gold Brook Bridge, or "Emily's Bridge". There are a few different stories surrounding the death of this troubled spirit, with some suggesting that she killed herself when she arranged to meet a lover that didn't show. Another states that she was run over by horses. The stories typically involve love and heartbreak and make this a very chilling place in late October.
More Cities to Enjoy
Can't find a city near you on the list? Don't worry! The US has a history that dates back several hundred years, a history filled with war, murder, and all kinds of struggles and strife. If you believe in ghosts, you'll recognize this as the perfect cocktail for our spectral friends. Just to prove that point, here are a few more locations that you might not expect to be all that spooky, but will surprise you when you take a closer look:
See more articles in our US Travel category.
Bio—Nicky Sarandrea is a writer who loves to travel. He is currently enjoying the Destin weather and looking forward to his next big trip, just as soon as he can drag himself away from the beauty of the Emerald Coast.
If you enjoy this content, please share!