If you enjoy this content, please share!
Have you ever visited Florida? Clay, the kids and I have driven to Florida, from coastal Georgia once. We stepped foot in the Atlantic ocean in St. Augustine, FL, got an ice cream cone, then drove back. It was just a short day trip / Sunday drive type of thing. That's as far south as I've ever been. I'd love to visit more of Florida though and hope to in the next year. I would love to visit Washington County Florida.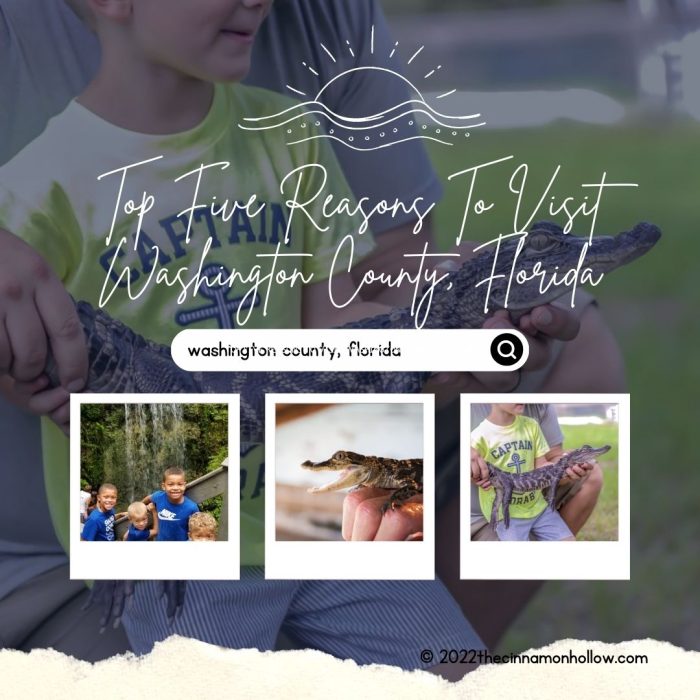 Here's some more info along with the top 5 reasons to visit!
Washington County Florida, is just an hour drive north of the white sand beaches of Panama City and seems a world away. It is known as the "real Florida," with natural landscapes, beautiful inland waterways and authentic downtowns. It's a popular destination for those who love to paddle or hit the trail as well as those looking for family fun.
Here are some of the most popular reasons to visit.
Paddling–Cool, sparkling springs and crystal-clear creeks are among the more than 16,000 acres of freshwater opportunities welcoming visitors to Washington County. Holmes Creek, Choctawhatchee River and Econfina Creek are excellent canoeing, kayaking, tubing and paddleboarding sites. Outfitters have all the gear needed and public access areas are perfect for swimming and picnics.
Equestrian Trails–Riding is a popular activity here and there are opportunities for those of all skills. The equestrian trail of Pine Log State Forest (5583-A Longleaf Road, Ebro, Florida 32437-1227; 877-879-3859) winds through 12.5 miles of its more than 7,000 acres of natural lands. At Sunshine Riding Trails (2273 Rolling Pines Road, Chipley, Florida 32428; 850-773-1900) guided rides as well as lessons are available and riders enjoy access to more than 10,000 acres of Florida sandhills and preserved forest.
Camping–Both RV and primitive spots in Washington County offer opportunities to get away from it all and enjoy the outdoors. Pine Log State Forest (5583-A Longleaf Road, Ebro, Florida 32437-1227; 877-879-3859) has both RV and primitive sites and visitors can enjoy the picnic and swimming areas, as well as miles of hiking trails. Falling Waters State Park (1130 State Park Road, Chipley, Florida 32428; 850-638-6130) has campsites situated on one of the highest elevations in Florida, in a pine forest 324 feet above sea level. There are 24 campsites equipped with water, electricity, picnic tables and campground grills.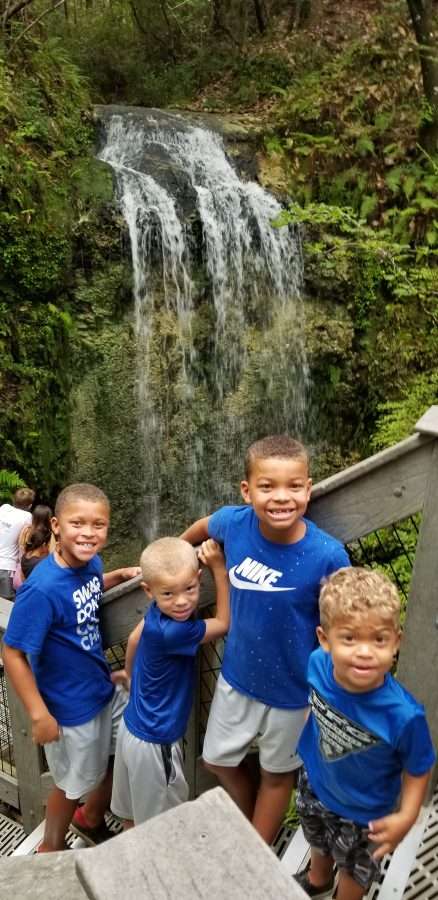 Animal Encounters–Seacrest Wolf Preserve (3449 Bonnett Pond Road, Chipley, Florida 32428; 850-773-2897) is one of Washington County's most popular attractions, offering an experience like no other. The preserve gives visitors a rare opportunity to interact with wolves. This is the largest preserve of its kind in the country and its mission is to provide a safe and humane sanctuary for these beautiful animals. VIP tours are offered by appointment. Tours at Orange Hill Gator Farm (3172 Orange Hill Road, Chipley, Florida 32428; 850-527-1383) are filled with up close encounters with gators of all sizes. Guides share knowledge of the animals' growth, habits and habitats.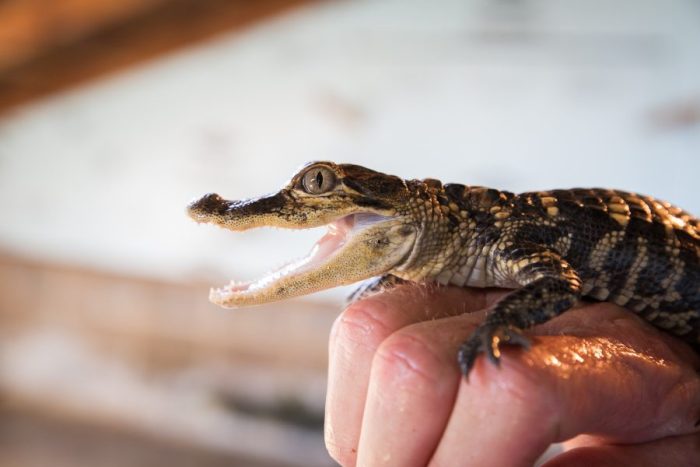 Historic Sites–There are historic sites throughout the county, ranging from historic markers and one-of-a-kind monuments to preserved churches and storied cemeteries. Chipley's South Third Street Historic District, designated a US historic district in 1989, includes 13 historic homes, including excellent examples of Queen Anne Victorian style architecture–many say the best examples in Florida. The history of the homes can be found at the nearby museum (685 7th Avenue, Chipley, Florida 32428; 850- 638-0358), maintained by the Washington County Historical Society. The original county seat was Vernon, and today the Vernon Historical Museum (2808 Yellow Jacket Drive, Vernon, Florida 32462; 850-535-2444) is located inside city hall. This is a great place to start any exploration of the county's history.
If you're like us, food plays a big role in our trips and get-togethers. We love to cook when we travel but also love to find, at least, one new restaurant to try. I love going to places we don't have here at home. One of a kind spots that the locals love. Here are a few places to try there. They all sound delicious!
Where to eat:
Dining options are casual here and Washington County is known for good home cooking, amazing barbecue and authentic ethnic favorites.
Skins & Bubba's BBQ (458 Main Street, Chipley, Florida 32428; 850-638-4227) offers finger-licking-good barbecue along with Southern favorite sides and dollop of hospitality.
Cancun's Mexican Grill (1511 Main Street, Chipley, Florida 32428; 850-638-8280) is a favorite for south of the border cuisine in a friendly atmosphere.
Colonial Restaurant (686 5th Street, Chipley, Florida 32428; 850-415-7115) is a decades-old Southern-style restaurant in downtown Chipley with a hearty buffet featuring all the favorites.
For even more tips on things to see and do there is a new virtual visitors guide making planning a trip to Washington County a breeze.
ABOUT WASHINGTON COUNTY | Washington County Florida is in the central panhandle, along Interstate 10, between Pensacola and Tallahassee. Just an hour's drive north of Panama City Beach, Florida, the county encompasses the municipalities of Chipley, Vernon, Wausau, Caryville and Ebro. Paddling and other outdoor adventures combine with unique attractions, small town charm and Florida history to offer a surprising getaway destination. Visit Washington County offers lodging, dining and attractions information online.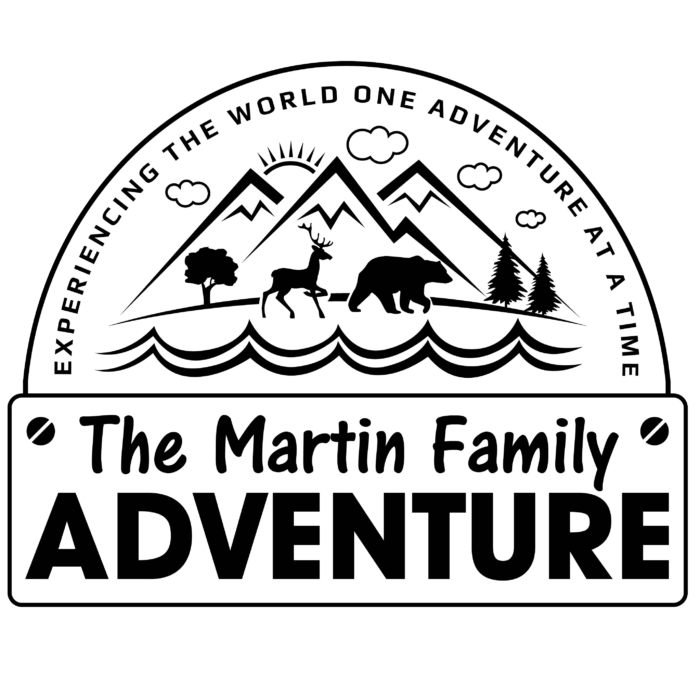 We are The Martin Family, from Kentucky, and we write about all things travel! We're so happy you've joined the adventure with us! We are excited to share our travels, journeys and adventures with you here on our site. We love experiencing the world one adventure at a time! Be sure to follow on YouTube and social media for even more!
"Live life one adventure at a time!" Crystal Martin
If you enjoy this content, please share!