If you enjoy this content, please share!
Eating on the hiking trail doesn't have to be boring. In fact, trail food can be quite good! One of my favorites is RightOnTrek Bechamel Style Mac and Cheese. It is rich, thick and delicious! (25% discount below)
Affiliate links have been used in this post. Purchases made through our links earn us a small commission to pay for our website, without any fees passed on to you. Read our full disclosure policy for more info. Thank you for your support!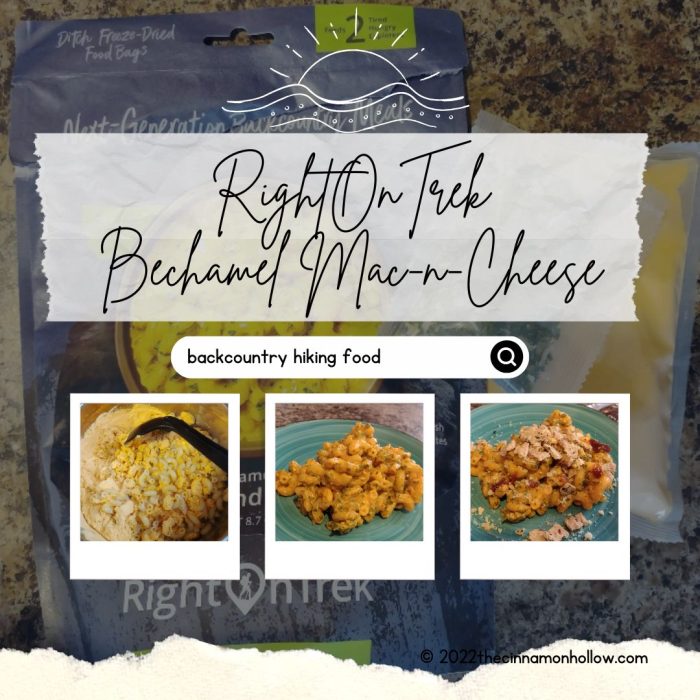 What is Bechamel:
Béchamel is one of the French mother sauce recipes. It's a classic sauce base made using a white roux (butter and flour cooked together) and milk.

https://sundaysuppermovement.com/bechamel-sauce-recipe/
What is the difference between a bechamel sauce and a roux?
A roux is a mixture of (usually) equal quantities of flour and butter that's used as a thickening agent in sauces. A béchamel is a sauce made using a roux with the addition of (usually) milk.

https://mrsportlyskitchen.com/2016/05/10/basics-bechamel-or-roux/
RightOnTrek's Mac and Cheese recipe is creamy and thick, and includes optional parsley, onions, and cracked black pepper that can be stirred in for even more flavor! (it adds a great savoriness to it)
You may remember me talking about RightOnTrek dehydrated and freeze dried trail food in a past article. I'd originally posted it on Cinnamon Hollow but loved it so much I wanted to share it with you all here as well and had syndicated the post here on TMFA. Everything we tried was absolutely, delicious! It was all incredibly easy to prepare, as well. The mac and cheese, this time around, was no different!
I was sent the 2 serving pack which retails for $13.99. (single serve is $7.99) It's been raining cats and dogs, here in KY, so we had to try our samplings in our home kitchen. I've prepared RightOnTrek meals on a camp burner before, though, and they work perfectly. Here's how easy it is to prepare: BUY HERE
Cooks in 10 Minutes
Instructions for 2 serving size meal
1. Bring about 16 oz water to a boil
2. Add the noodles and boil for 3-5 minutes
3. Turn off heat (don't drain)
4. Add the cheese mix and stir
5. Stir in the optional spice packet for a little extra kick
Could that be any easier, especially when in the back-country or camping? Boil, stir, eat. Simple and satisfying. You don't even drain the noodles. A lot of the water cooks out, but, what is left, helps the cheese combine with the noodles.
I LOVE these 2 camp/trail cook sets. This one AND this one! They are super easy to transport, include the stove (you'll need a propane tank), utensils, etc. Everything fits perfectly in a carrying bag. (see 1 more recommended camping set at bottom of post)
How Does RightOnTrek Bechamel Style Mac-N-Cheese Taste?
As mentioned above – Um, amazing! You would imagine that a dried product with powdered ingredients would be gritty or slimy but this is not! RightOnTrek mac-n-cheese comes out thick, creamy and full of flavor. It's magic in a packet! It did take some stirring, since it's a powder, but it melted in and was really good. There's 6 of us so I always let everyone that's here taste test with me so I can get a good reaction, just in case my taste buds are having an off day. We all loved it! In fact, Clay said it's the best tasting macaroni and cheese he's ever had, even without the extra seasoning packet! That's high praise. And he's not wrong. It's so good!
We tried it, first, without any add-ins. Delicious. Then we tried with the optional parsley, onions, and cracked black pepper. Those added even more depth of flavor and added a more savoriness to it. We were also sent some optional add-ons that can be added to your order including, grated Parmesan, sriracha hot sauce and 3-Seed and Sea Salt Flatbread Crackers. I drizzled a little hot sauce on top and sprinkled on some Parmesan cheese. I then crumbled the crackers on top like you would a baked mac-n-cheese. It was amazing! It was good with just the cheese sauce, but it was indescribable with the extras! Definitely not something you'd expect to have after a long day of hiking.
Either of the 3 ways was phenomenal. (I forgot to take a picture of it with just the cheese sauce)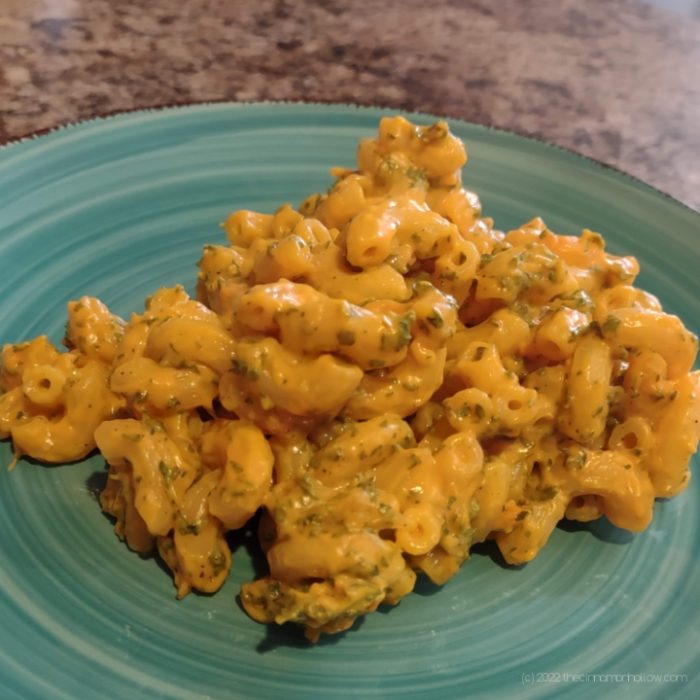 25% off first-time orders with code 'Revolution25'. Shop ultra-light, ultra-fresh, and Ultra-affordable backcountry meals now!
.
.
You can buy MADE TO ORDER pre-selected meal kits or build your own. The RightOnTrek meals include fresh ingredients to minimize preservatives, and prepare each order individually. Previously, you used the meal planner to select meals for a several day trip. Now, they also have 1-2 day meal kits, which are the same items from the meal planner but pre-selected.
Along with the RightOnTrek Bechamel Style Mac-N-Cheese, I was gifted some of their new options to try including Blueberry Bliss Granola with Yogurt. It came with a powdered cream, dried banana chips, walnuts and honey to be stirred in for extra flavor and crunch. Wonderful flavor. Again, I was at home when I tried that and cooked it right on the stove. It was raining outside, the weather was sticky and gross but it was cold inside and I was feeling under the weather. The Blueberry Bliss Granola with Yogurt hit the spot!
Since our last article, RightOnTrek has included Keto and Vegetarian options as well! I was thrilled to hear this! While, I do, occasionally, eat off-plan (I follow Trim Healthy Mama lifestyle), I prefer to follow as closely as possible, even when traveling, hiking or camping. The Keto kit allows me to do that. It isn't 100% THM compatible, but it is close enough for me!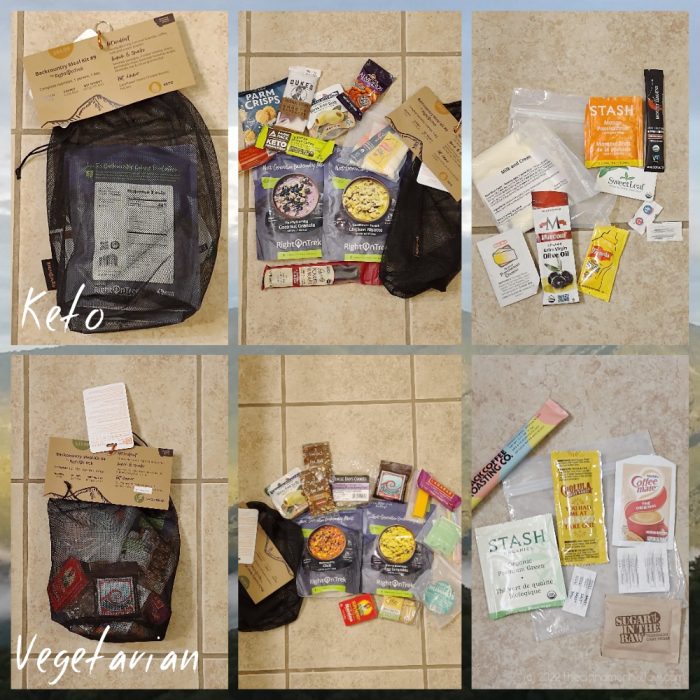 Stay tuned for my next post where I detail the contents of the Keto kit and then a follow-up with the Vegetarian kit. Subscribe to our newsletter so you don't miss out!
These meal kits also come in handy mesh bags and zip bags to carry your stuff in. They are also reusable so you can pack it all back out as well! Just toss your trash into the bag, stuff it in your backpack and you're good to go. No waste, no mess. Pack it in, pack it out. Each kit also comes with a Leave No Trace card with tons of tips for leaving your campsite clean.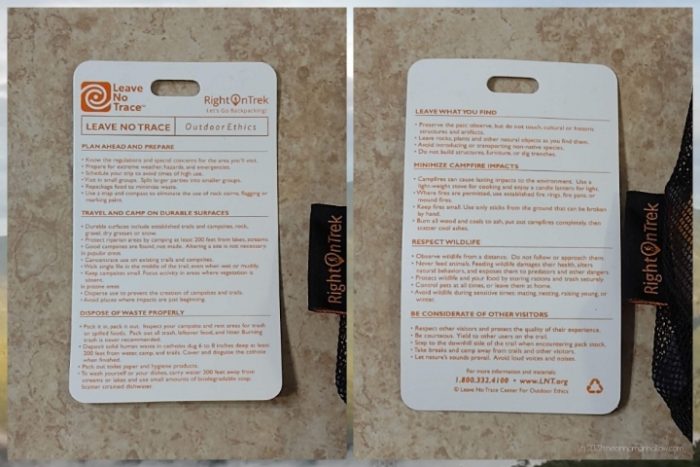 The RightOnTrek website also offers sections to find trails and plan adventures, start and organize your trips and rent adventure gear. It's truly an all in one back-country exploration site! I love this company so much.
Have you ever ordered from RightOnTrek? Do you like that there is a service that helps you meal plan for day or longer hikes and offers easy to prepare trail food at a low cost? Which meal do you think would be your favorite?
Here is one more cook set I recommend. This one is a bit larger so I prefer it for camping when you're taking a full camp kitchen, not just when hiking. It is a pouch full of all the utensils you'd need, knives, spice containers, etc. I love things like this!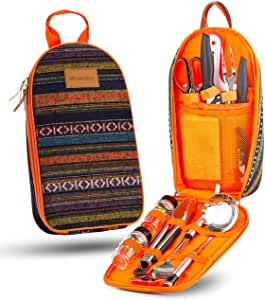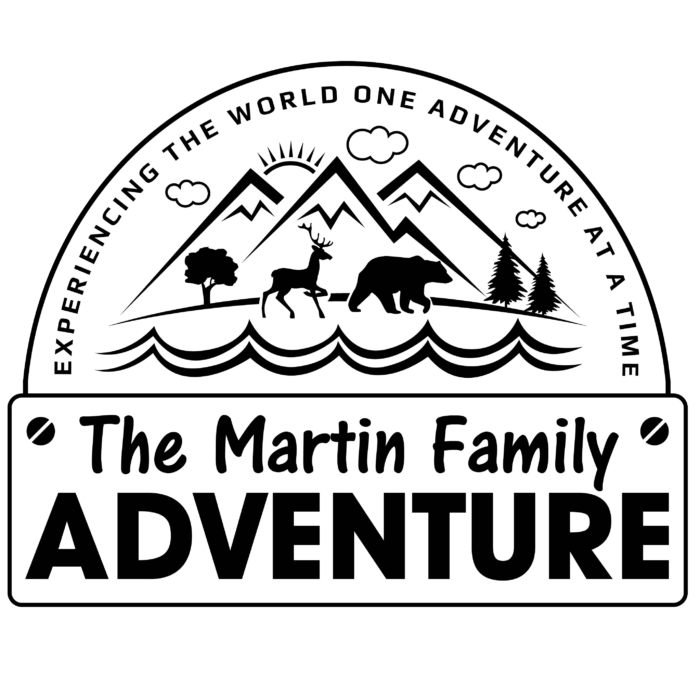 We are The Martin Family, from Kentucky, and we write about all things travel! We're so happy you've joined the adventure with us! We are excited to share our travels, journeys and adventures with you here on our site. We love experiencing the world one adventure at a time! Be sure to follow on YouTube and social media for even more!
"Live life one adventure at a time!" Crystal Martin
If you enjoy this content, please share!