If you enjoy this content, please share!
I realize this post is me gushing – but, hey, I met an incredible lady at a female-veteran owned establishment and she deserves all the gush! Clay and I recently had the chance to visit Shine Girl in Sevierville, TN and meet the sweet and lovely owner, miss Danielle Parton! It wasn't planned and we didn't know she would be there. In fact, it didn't even dawn on me that she was the owner until we went inside! And, apparently, Master Distiller Tater was also there but I was too busy fan-girling over miss Danielle to even notice! I hope he's there the next time we go! If I had turned around on my bar-stool I'd have seen him.🤦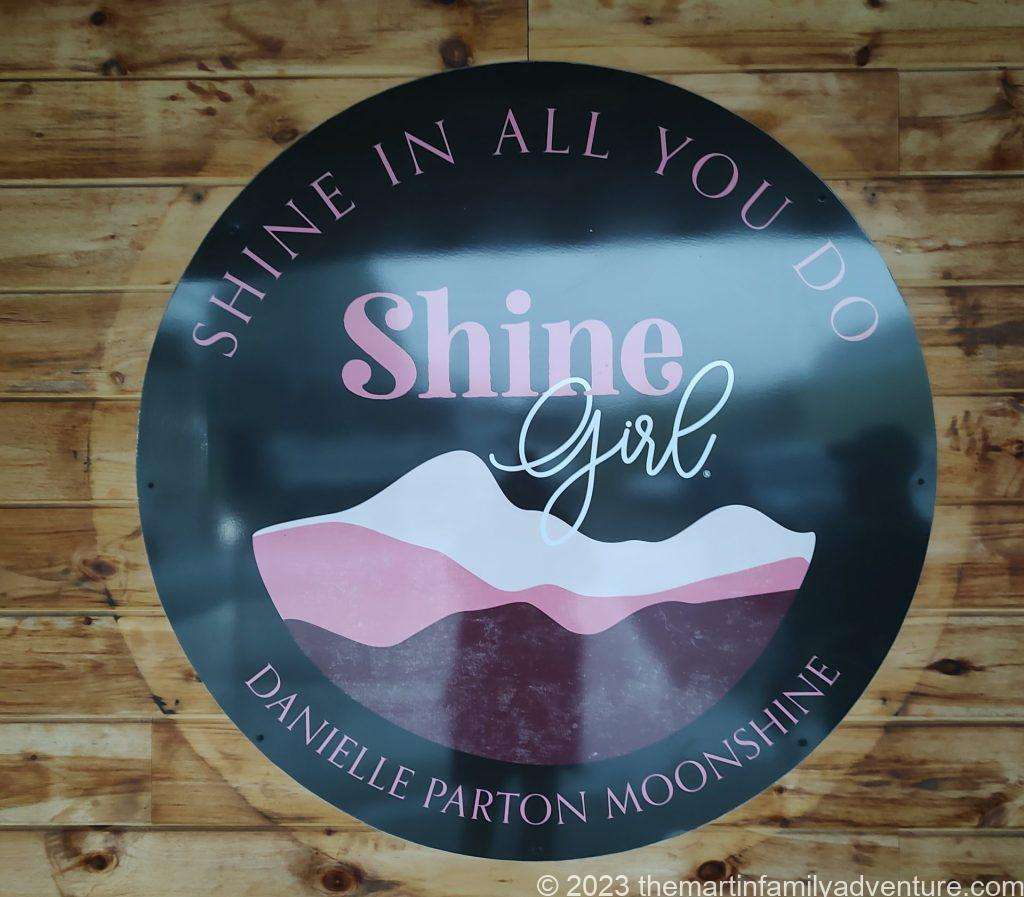 This post is NOT sponsored. Clay and I visited on our own and loved Shine Girl so I wanted to share this "off the beaten path" moonshine distillery with you.
If moonshine is not your thing, but you prefer wine, please join the California Wine Club!
Affiliate links have been used in this post. Purchases made through our links earn us a small commission to pay for our website, without any fees passed on to you. Read our full disclosure policy for more info. Thank you for your support!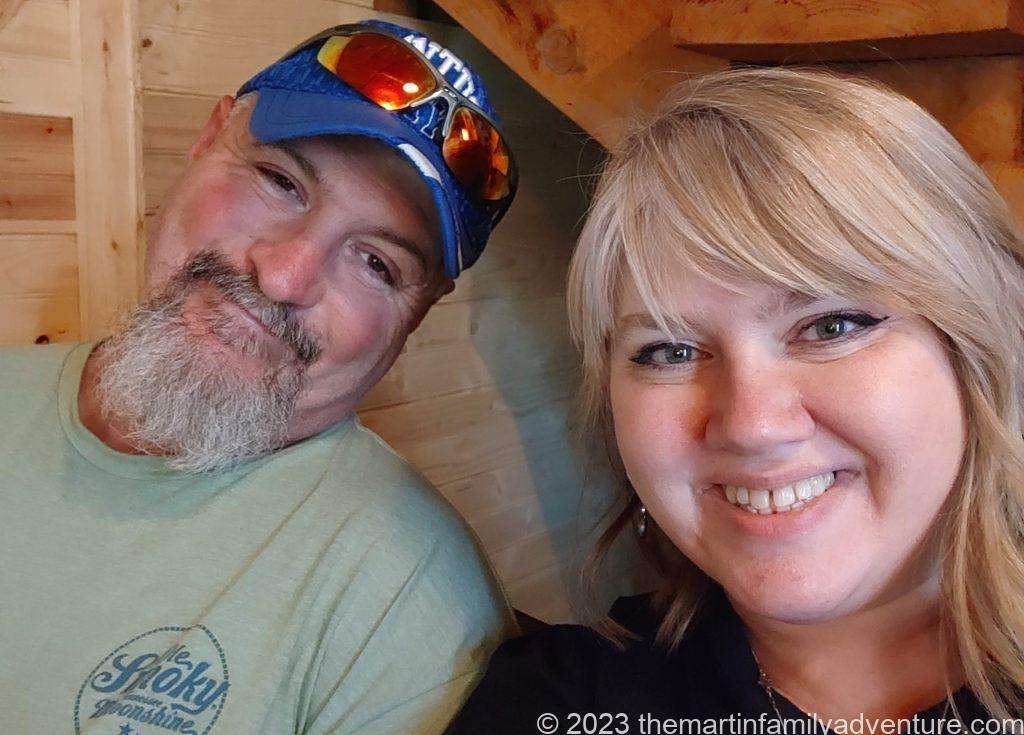 When I say it's off the beaten path, it really is. Clay and I love trying out new moonshine distilleries and learning about the process of making moonshine. I love trying new flavors that other places don't have. So I had googled "Moonshine Distilleries near me" when we were out and about on our latest trip. Shine Girl was one of the first ones to pop up so we decided to try it.
Keep in mind, I had heard of Danielle Parton and had seen her on the show "Moonshiner's" once but it has been quite awhile since we watched the show, or any TV for that matter. For some reason, it didn't even click in my mind when we decided to go that it was owned and operated by anyone from the show. We seriously need to catch up Moonshiners and on Master Distiller! 🤣
So, we arrived at Shine Girl and my first thought was how cute and different this place was from other distilleries in the area. It has a definite feminine vibe to it but you could see the men in there seemed right at home as well. Everyone was laid back, enjoying cocktails and each other's company. What was this place?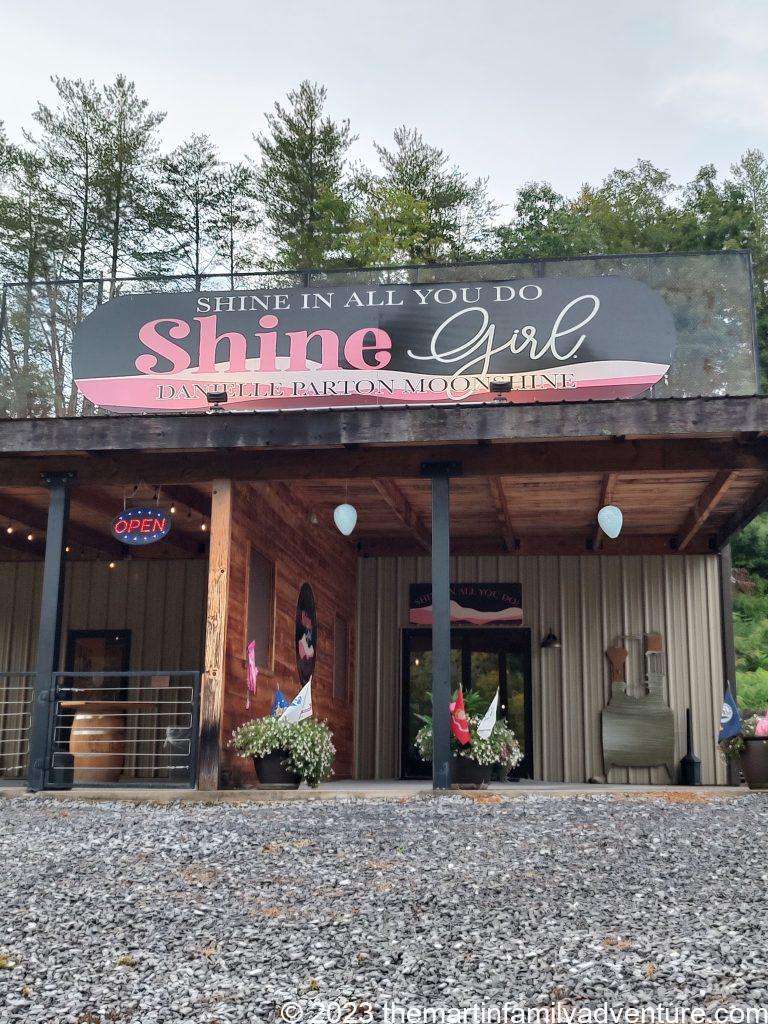 We walked in, unsure of what exactly to do when we heard a female voice say "well come on in y'all, everybody bites sometimes!". I cracked up and immediately felt right at home. Clay and I grabbed a seat and from the corner of my eye I saw Danielle. My first thought was that I knew her but wasn't entirely sure. So I looked around a little and saw her big chalkboard wall that had her name and social channels and a bit about Shine Girl. (I never even looked at the sign out front when we pulled up – it has her name on it! 🤣)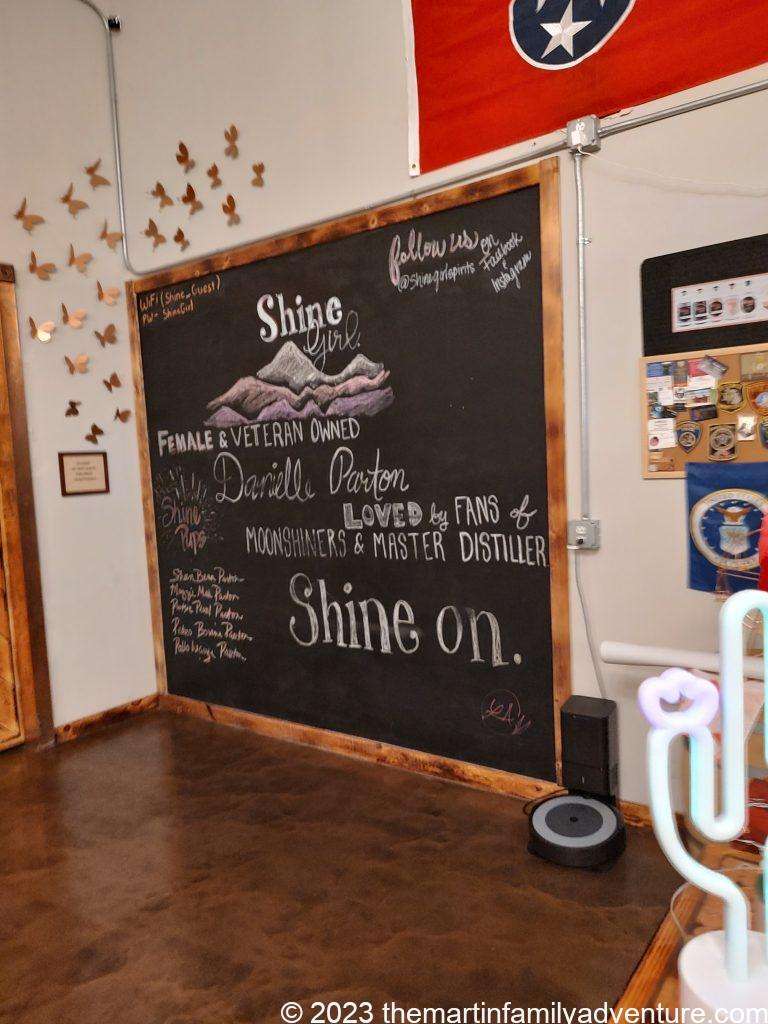 Then it hit me and I nearly lost my composure! I grabbed Clay's hand and asked if he knew who that was. He just grinned. Of course he knew! He's always so calm. Me: giggly, wide-eyed fan-girl.
The lady herself walked over and started talking to us and asked if we were there to try samples. Clay said we were but that we were new there and not really sure how they did things. She brought out her products and gave us our sample cups and she herself poured our samples and did our tasting, telling us about each product. Folks, rarely does the owner of a place work there and interact with guests/customers but she does every time she gets the chance!
After trying the samples we each ordered a cocktail. Clay ordered a BloodShine and I ordered a Still Magnolia. His was a Bloody Mary, which I don't typically like. I tasted it, though, and it was incredibly good! My cocktail was the Still Magnolia which includes Shine Girl Lavender and unsweetened tea. It was floral in taste and very, very good! I love lavender though so it really hit the spot.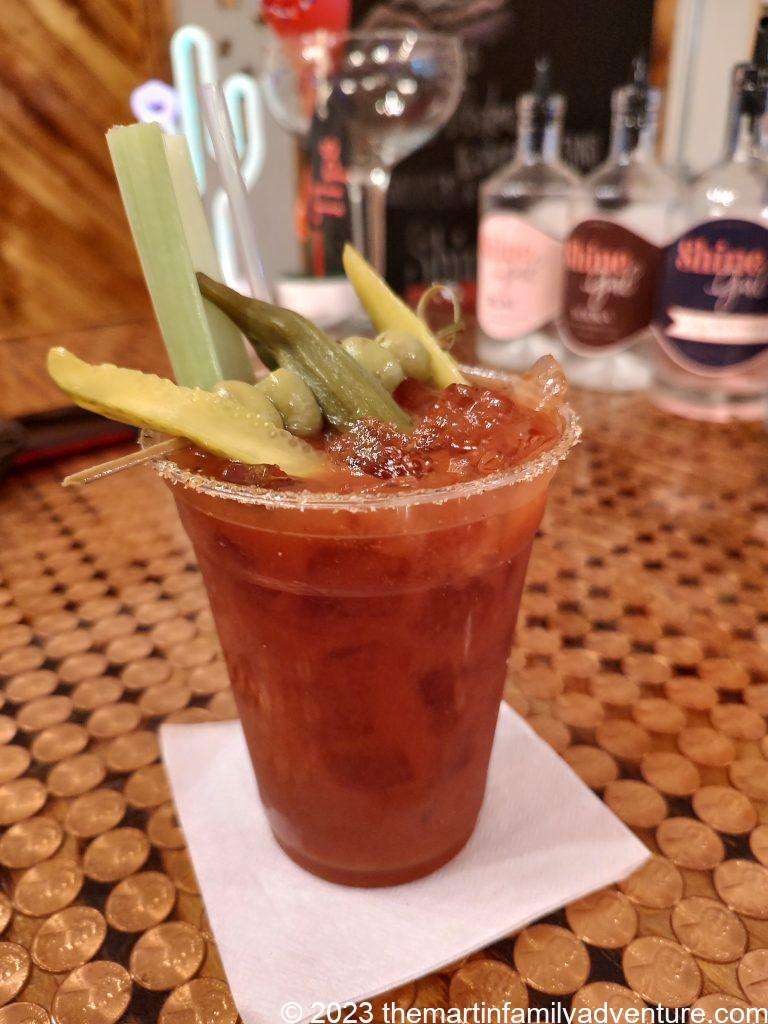 After our samples and ordering our drinks, I just grinned like a ding dong and asked to take her picture. Because what else do you do when you meet a celebrity that is the most down-to-earth, sweetest, beautiful human being you've ever met? She said sure and took a photo with me and let me take some of her behind the bar.
I was hot and sweaty and currently overweight and swollen from medication, and wet from the rain and looked a mess but she graciously hugged me and let Clay take a picture. And I didn't care how I looked or felt because SHE made me feel right at home. How rare is that?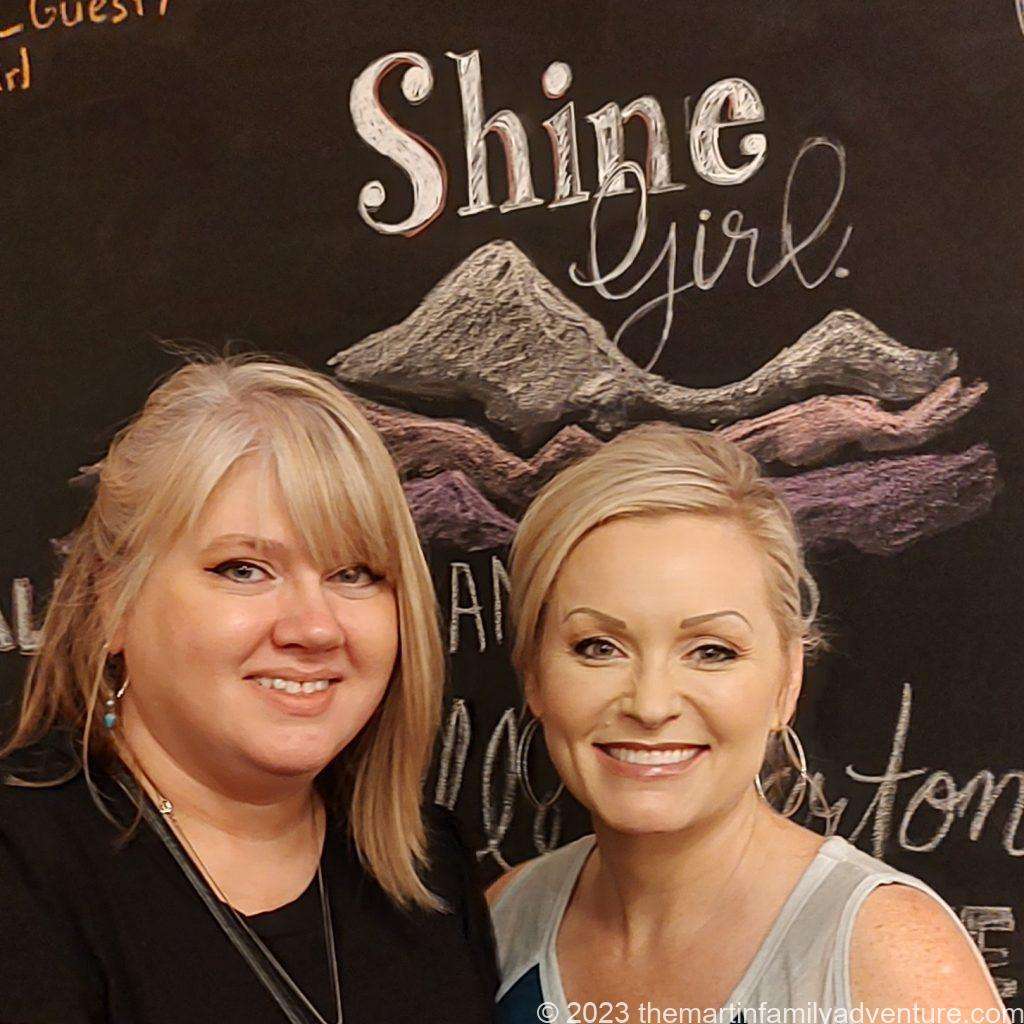 We bought a bottle each of her Lavender, Rosé and Vodka. I wanted a bottle of the Red Velvet but, for some reason, didn't end up buying one. I'll definitely get a bottle of that next time! I also bought 2 Shine Girl coffee mugs. Danielle autographed my moonshine and vodka so I'll be putting those up!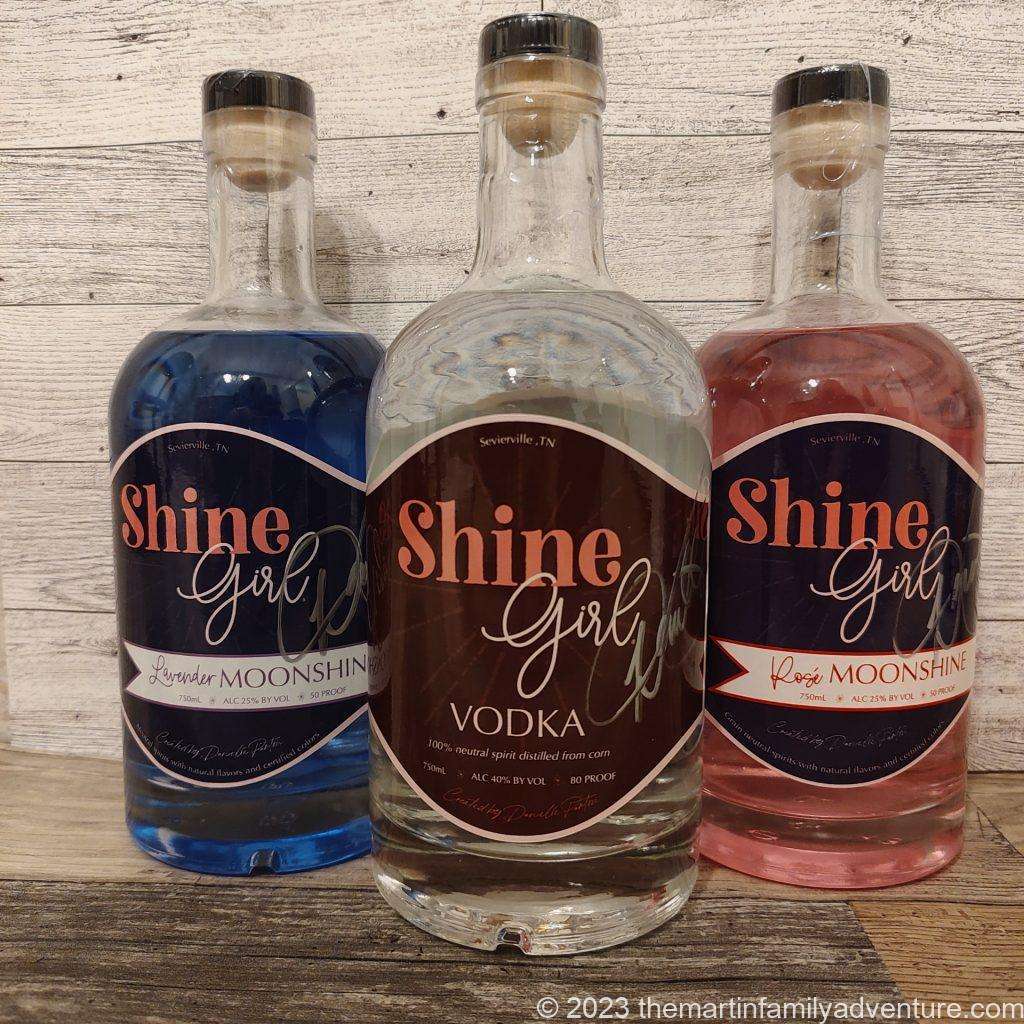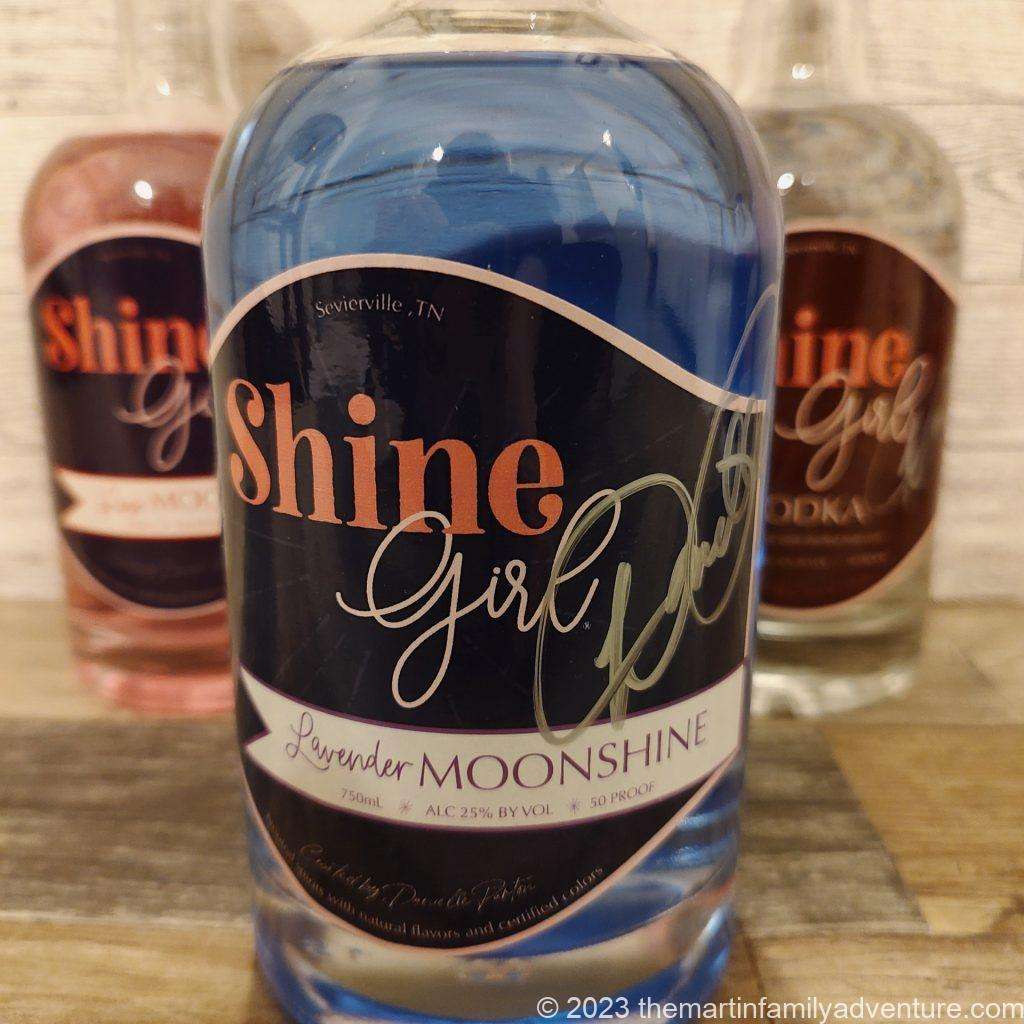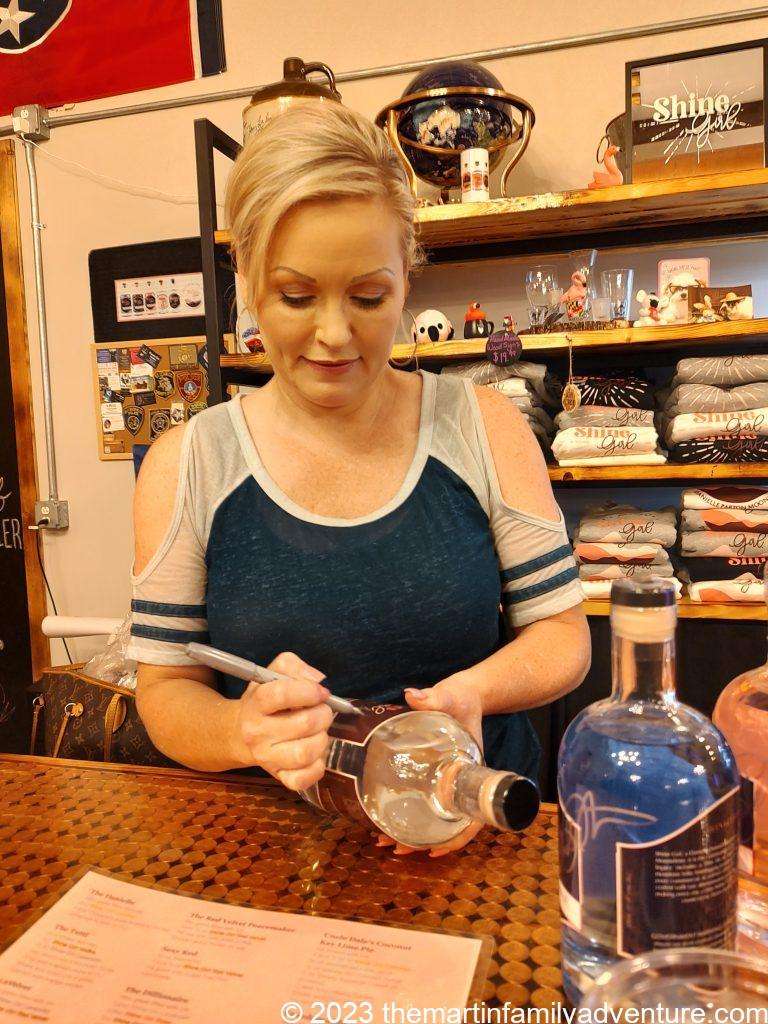 It's not often that you meet someone you've seen on TV that is down to earth and gracious in person. But Danielle Parton is. Everyone in Shine Girl that day was so nice and welcoming.
And she is amazing. While reading the chalkboard and then talking to her, I discovered that Danielle Parton is a Veteran Aircraft Commander in the Air National Guard, who has deployed and seen combat and is also a pilot. She is incredibly busy in her life and she just sits and talks to her customers like she's known you forever!
I didn't ask much about her moonshine or her products because I can learn all that watching her on TV or on Google or just in her store. Instead, we chatted about her and her plans and goals for the future. I immediately felt like I was talking to an old friend. It was different and so homey and I loved it and can't wait to visit again!
About that time a local couple came in and introduced themselves. They, ms. Parton and our server all talked a bit until she had to leave. Then the sweet couple and our server (miss ma'am for anonymity) chatted for hours. HOURS! I didn't realize we were there that long because time passed quickly. It was storming outside and everyone that was already there just sort of stayed and passed the time. It was perfect! Remember the show "Cheers"? Yeah, like that.
I know this post is sort of all over the place and really long but I wanted to share Shine Girl with you all. I have never felt so at home in a new place in my life. If you're ever in Sevierville and looking for a new place to try (you can order cocktails), give Shine Girl a try. I think you'll love it just as much as we did.
Find Shine Girl on social media and check out the website.

Shine Girl Address
More Articles you May Enjoy: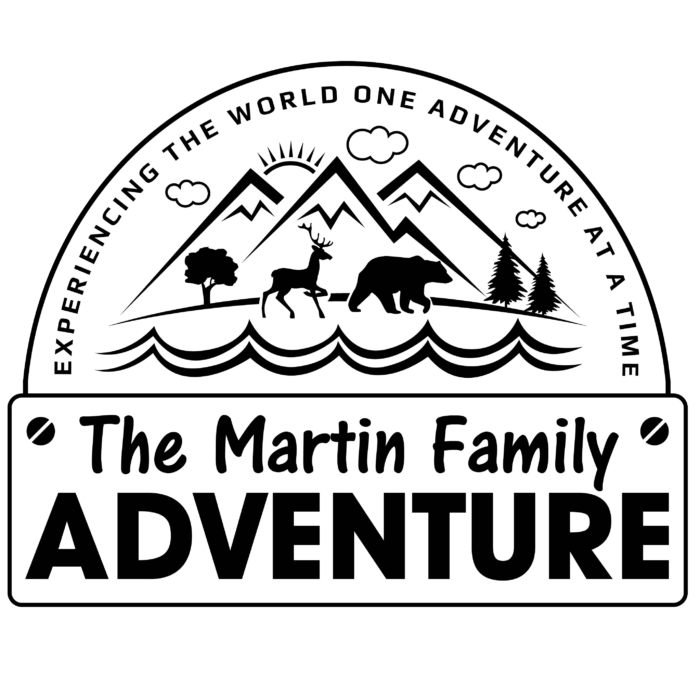 We are The Martin Family, from Kentucky, and we write about all things travel! We're so happy you've joined the adventure with us! We are excited to share our travels, journeys and adventures with you here on our site. We love experiencing the world one adventure at a time! Be sure to follow on YouTube and social media for even more!
"Live life one adventure at a time!" Crystal Martin
If you enjoy this content, please share!